There is no gainsaying that the Hoang Lien Son Range is a favorite destination among visitors to the resort town of Sa Pa in the Northern Highlands province of Lao Cai.It is home to the 3,143-meter Mt. Fansipan, the highest peak in Vietnam and among the highest in Southeast Asia. Its biodiversity, waterfalls and ethnic minority cultures are always a big draw.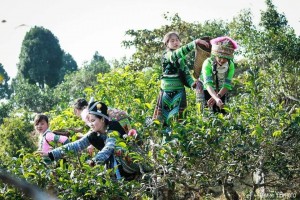 Ancient taste
Leaving Suoi Giang, we spent one night in Sa Pa before heading for Mt. Fansipan, where tea trees as high as more than 30 meters are located.
The next morning we set out very early so that we did not have to spend the night on the mountain.  Carrying rice cooked in bamboo sections, boiled eggs and water bottles, we completed procedures at the post manned by forest rangers before entering the Hoang Lien Son National Park.
Huan, a forest ranger, became our guide to the tea forest.
The forest was discovered by Tran Ngoc Lam, who spent many years living on the Hoang Lien Son and working as a tour guide for visitors to Mt. Fansipan. However, no one else knew about it until Lam took a Japanese engineer who was also a tea lover there in 2003. Since then, the stories about Lam's discovery and his trip with the Japanese man have been occasionally reported in local media, but the tea forest still remains unknown to most visitors.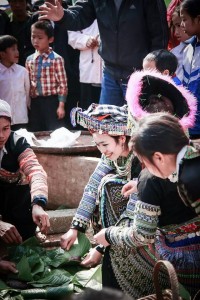 According to Huan, the trees are not located in one place, but distributed at various heights of between 2,200 and 2,800 meters.
We walked for more than two hours before reaching the height of 2,000 meters. Most of us were tired and our steps became slow and heavy, even though at the beginning of the trip, we were all excited.
After another 200 meters, instead of turning right to climb up to the mountain top, Huan signaled for us to turn left and we continued walking through a forest.
The narrow pass, rarely used by humans, was wet and slippery. The trees were big trees with giant branches. The deeper we went into the forest, the darker it became. Unused to such surroundings, we were nervous, and Huan's repeated reminders to watch out for snakes because the forest was home to many poisonous reptiles did not help matters.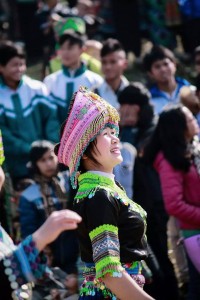 After some time, we crossed a bamboo forest on a path that our guide said had been formed by herds of wile buffalos. Later still, we went down into a valley, via moss-covered rocks. It was slippery, so we had to hold onto tree branches and grasses to keep our balance.
On our way down, we spotted the first tea trees that looked old and tall, their trunks covered with moss. If we had not seen these with our own eyes, we would never have believed that such big tea trees could exist.
Taking rest under a tea tree, we brewed some tea with leaves picked on the site, and found the answer to a question uppermost in our minds at that time: "How does ancient tea taste?"
We are glad to report that it was sweet, gentle and pleasant.
Ý kiến tham luận
Welcome