Dịch vụ "Homestay" ở Yên Bái được bắt đầu từ năm 2005 homestay Nghĩa Lộ ở bản Đêu, xã Nghĩa An, thị xã Nghĩa Lộ, sau đó là thôn Ngòi Tu của xã Vũ Linh, huyện Yên Bình, gần đây là bản Kim Nọi, thị trấn Mù Căng Chải. Đến nay dịch vụ "Homestay" liên tục gia tăng ở các điểm du lịch cộng đồng trên địa bàn tỉnh. Các hộ kinh doanh dịch vụ này hiện nay ở thị xã Nghĩa Lộ khoảng 24 hộ, Bản Kim Nọi thị trấn Mù Căng Chải 12 hộ, thôn Ngòi Tu, xã Vũ Linh (Yên Bình) 10 hộ, thôn Cầu Có, xã Đông Cuông (Văn Yên) 3 hộ.

"Homestay Mù Cang Chải" là loại hình nghỉ, ngủ tại nhà dân, nơi mà du khách đặt chân đến. Đây là loại hình du lịch dành cho những du khách thích khám phá, trải nghiệm và tìm hiểu phong tục, tập quán của nhiều nền văn hoá trên mỗi vùng miền. Hình thức du lịch này chủ yếu dành cho các du khách tham gia loại hình du lịch "phượt", các du khách nước ngoài và gần đây là khách du lịch nội địa.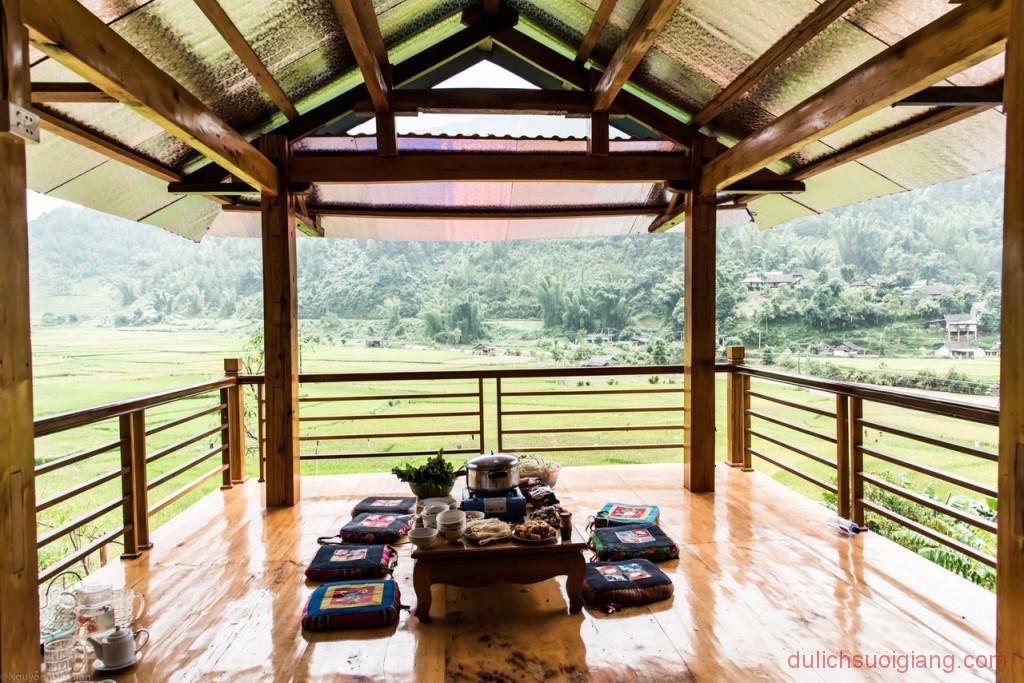 Chuyến du lịch ngắn ngày không quá tốn kém về mặt kinh phí, song du khách được đến với các bản, làng xinh đẹp còn nguyên nét văn hóa dân tộc truyền thống, với những khu bảo tồn thiên nhiên, khu rừng nguyên sinh, những thửa ruộng bậc thang lúa chín vàng mà lâu nay du khách chỉ được biết đến qua các phương tiện thông tin. Đến với "Homestay Mù Cang Chải" du khách sẽ được ở chung và sinh hoạt chung với người dân địa phương như thành viên trong gia đình, giúp du khách hiểu hơn về cuộc sống và con người vùng đất đó bởi họ được cùng ăn, cùng ở, cùng tham gia sinh hoạt với gia đình chủ nhà trong không khí ấm cúng và thân thiện, hơn nữa hình thức lưu trú này cũng khá hợp lý về giá cả, phù hợp với mọi đối tượng.
Nằm ở trung tâm thắng cảnh quốc gia La Pán Tẩn nằm cách thị trấn Mù Cang Chải 16km và cách UBND xã La Pán Tẩn 1km về phía nam, không phải đi xa từ vị trí này quý khách chỉ cần bước chân ra khỏi nhà là quý khách có thể cảm nhận được màu vàng của những cánh đồng ruộng bậc thang chải dài bát ngát, được ví như những thảm lụa, rực rỡ khoe sắc dưới ánh nắng sớm buổi bình minh, là cơ hội tốt nhất để quý khách có thể săn cho mình những bức ảnh đẹp nhất hiếm khi bắt gặp.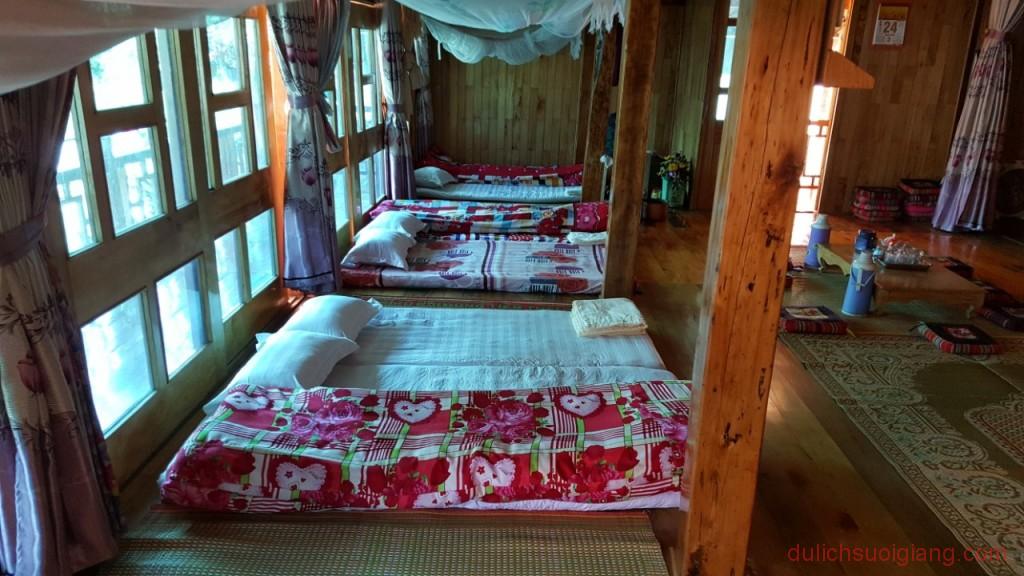 Đứng từ ban công quý khách có thể ngắm những thung lũng ruộng bậc thang chải dài vút xa tầm mắt, những cánh rừng thông bát ngát ….có khuân viên rộng, có bãi đỗ xe đảm bảo an ninh, tài sản cho khách du lịch, giá cả hợp lý.Nhà Sàn được xây dựng bằng gỗ Pơ Mu theo phong cách truyền thống kết hợp hiện đại của đồng bào dân tộc H'mông đầy đủ tiện nghi, trong lành thoáng mát, sạch sẽ.Tour mu cang chai .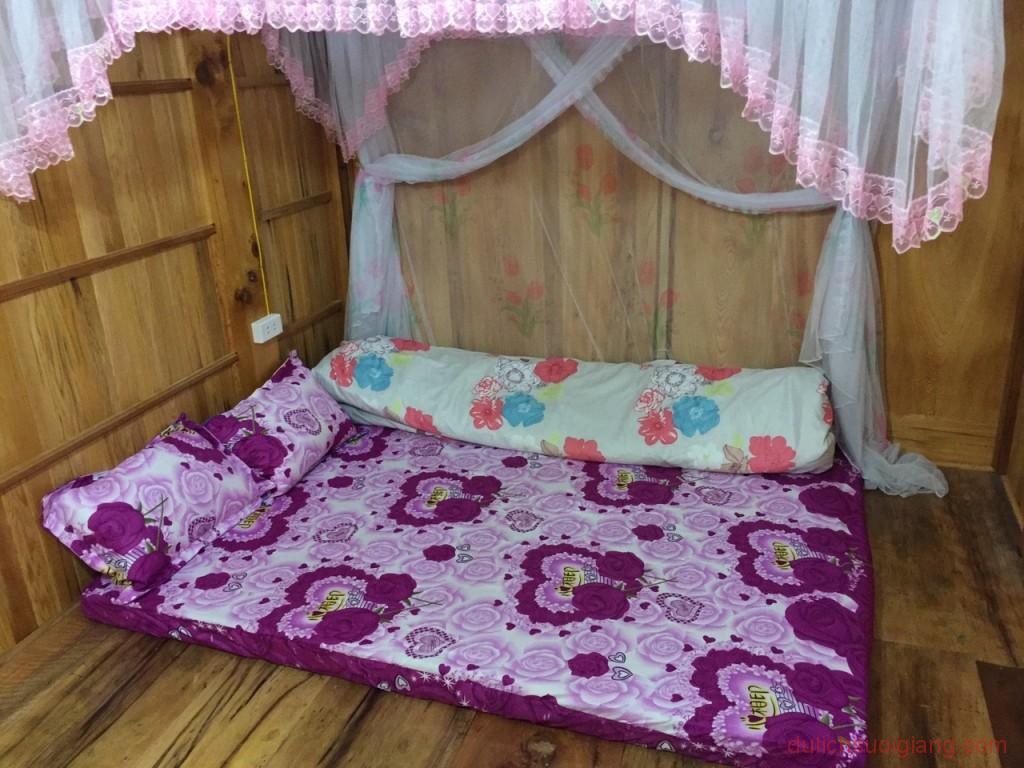 Ông Huy chủ một hộ "Homestay ở bản Kim Noi, thị trấn Mù Căng Chải" chia sẻ " Khách du lịch đến với địa phương ở đây chủ yếu là đi lẻ, thỉnh thoảng có nhóm đi theo gia đình và nhóm bạn với nhau, song thường xuyên nhất là khách nước ngoài, chủ yếu là du khách đến từ Châu âu như: Pháp, Canada, Anh…..chúng tôi đón khách quanh năm, song đông nhất vẫn là khoảng tháng 8 đến tháng 10…", ông Tòng Văn Dơn chia sẻ: "Từ ngày có dịch vụ này các hộ gia đình có thêm thu nhập, tuy chưa ổn định song cũng đáng kể so với trước kia chưa có dịch vụ này".
Thực đơn ăn chính: Gà luộc(nướng). Cá nướng (gấp sấy, hấp) , thịt heo băm nướng, nôm chua chát. Xôi. Rượu. Canh. Tráng miệng. Rau luộc nộm tùy loại. Nếu chợ có trâu bò có món nướng, nộm bì. Món có thể thay đổi chút theo mùa, vui lòng chat qua tư vấn để biết cụ thể hơn.
Tourists always choose Mu Cang Chai Township in the northern mountainous area of Viet Nam as a destination for home-stays.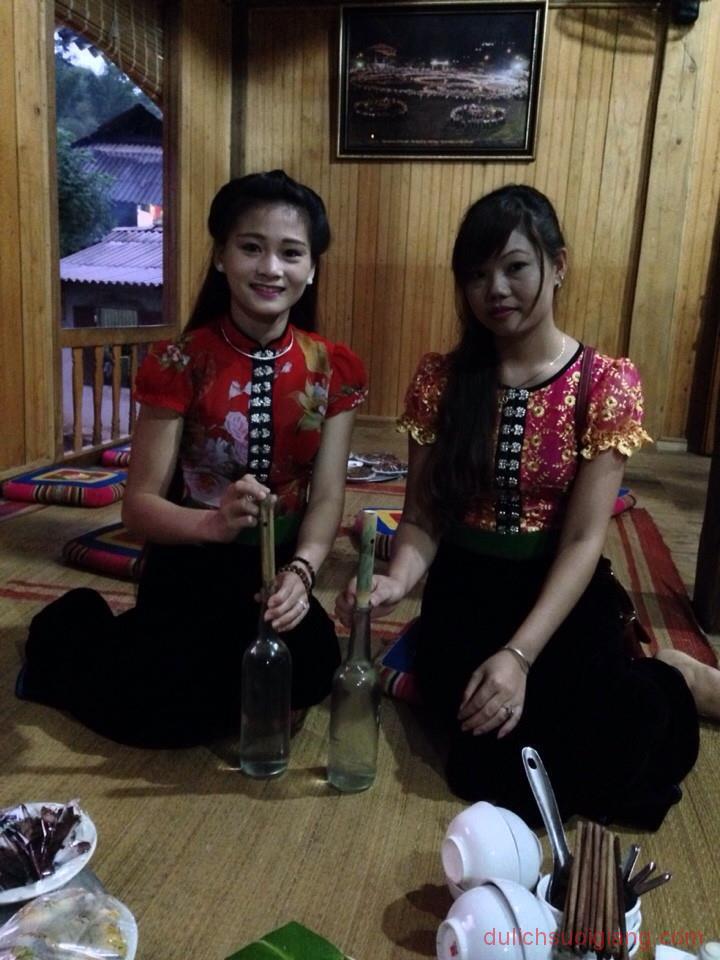 Returning to Ha Noi last week from a three-day trip to Mu Cang Chai Township, Che Suoi Giang , a professional phuot (back-pack traveller on a motorcycle) said his six-member group had been touring the mountain sides and they were excited by the experiences of staying two days with people from the ethnic minorities.
Agreeing with Che Suoi Giang, I remembered our group trip a month ago. Five adults and two children reached the beautiful township in the evening. We were amazed to see terraced rice fields on the route as we prepared to go mountaineering through the beautiful township.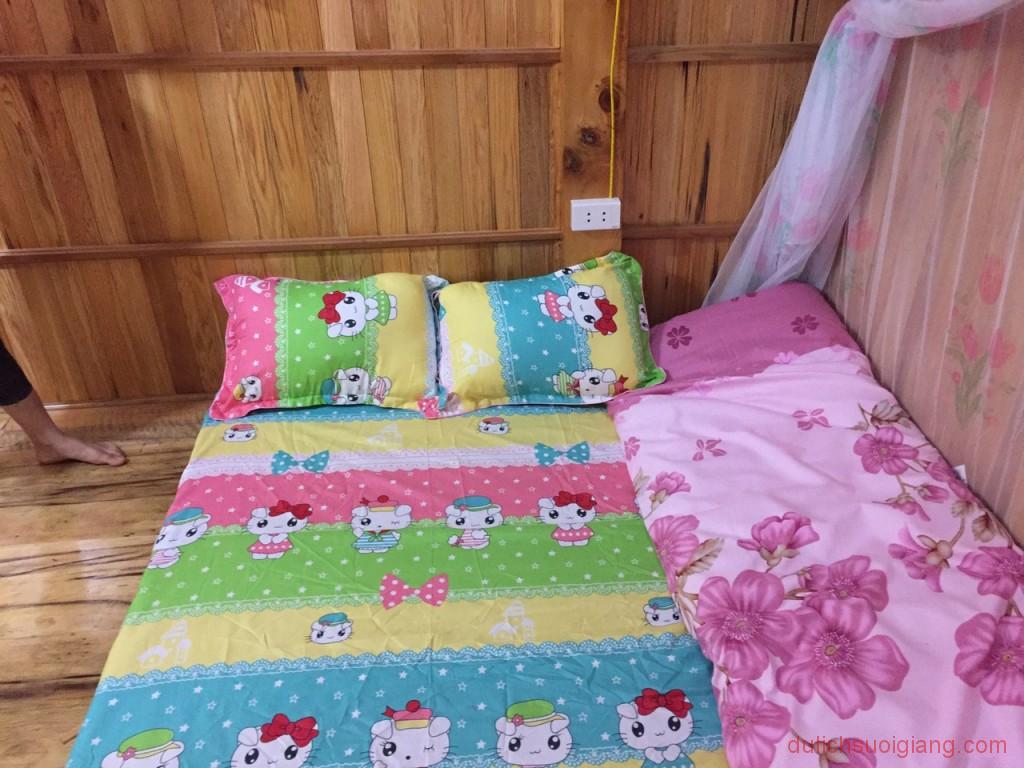 Terraced rice fields of Mu Cang Chai have been ranked as national relics by the Vietnamese Ministry of Culture, Sports and Tourism in 2007.We rented a pine timber stilt house in a Thai village, 1km from Mu Cang Chai Township. The clean two-storeyed house was built for home-stay tourism, so it was very comfortable. We stayed overnight on the second-floor which had bedrooms measuring 1.5mx1.5m and a living room equipped with a TV, a tea table, and two rest-rooms.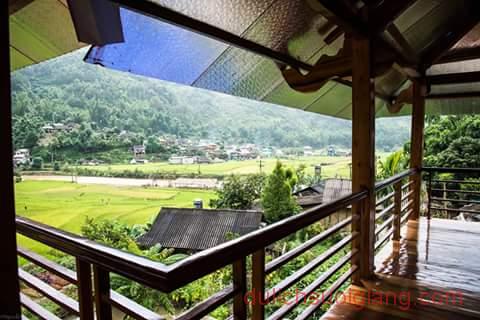 At present, the Thai village has five families who are in the business of home-stay services. Located at the centre of a peaceful valley surrounded by a pine tree forest and terraced rice fields, it is home to the Thai ethnic minority people who have a long-standing and diversified traditional culture.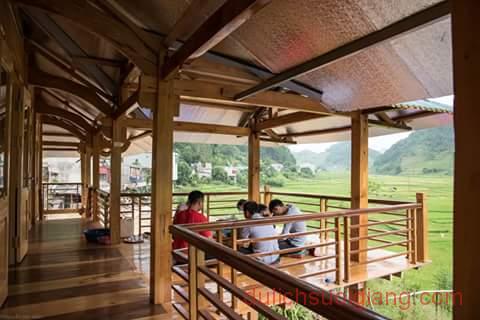 The first floor is used for dining. We had dinner together and ate baked pondfish, baked leaf-wrapped pork, bamboo shoots, freshwater crab soup and salted eggplant.Visitors preferred baked fresh sea-food for their meal, Huy said, and added that guests praised his wife's cooking.
Gastronomy in north-west Viet Nam in general, and Mu Cang Chai township in particular, is famous for the steamed glutinous rice (terraced field-farming rice), village-breed black chicken (a chicken weighs 0.7kg), and the village-breed pig.Travellers to Mu Cang Chai Township should eat Tu Le steamed glutinous rice (Tu Le is a town and a beautiful stop for photographers on their Ha Noi-Mu Cang Chai route).
Better choose stay in Nghia Lo town with Homestay Nghia Lo:

Nghia Lo Homestay is provided in Muong Lo, Nghia Lo town in the northwestern mountainous province of Yen Bai.The Muong Lo area of Nghia Lo town is the second largest field in the whole Northwestern region after Muong Thanh field of Dien Bien Province. Muong Lo is located in an immense and flat valley surrounded by a vast mountainous area.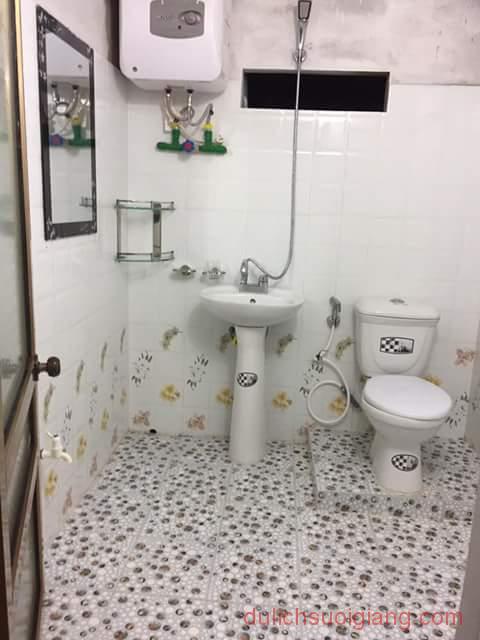 There are a couple of homestays having good facilities that can accommodate foreign tourists, those who seek for the real life experience. These homestay are located in Bản Thai village, by the Mường Lộ valley. Local homestays are made of wooden, on stilts, and have large shared spaces for both host and guests. Kitchen and bath room are located outside the house. Hot water is provided. But there is no air-conditioner…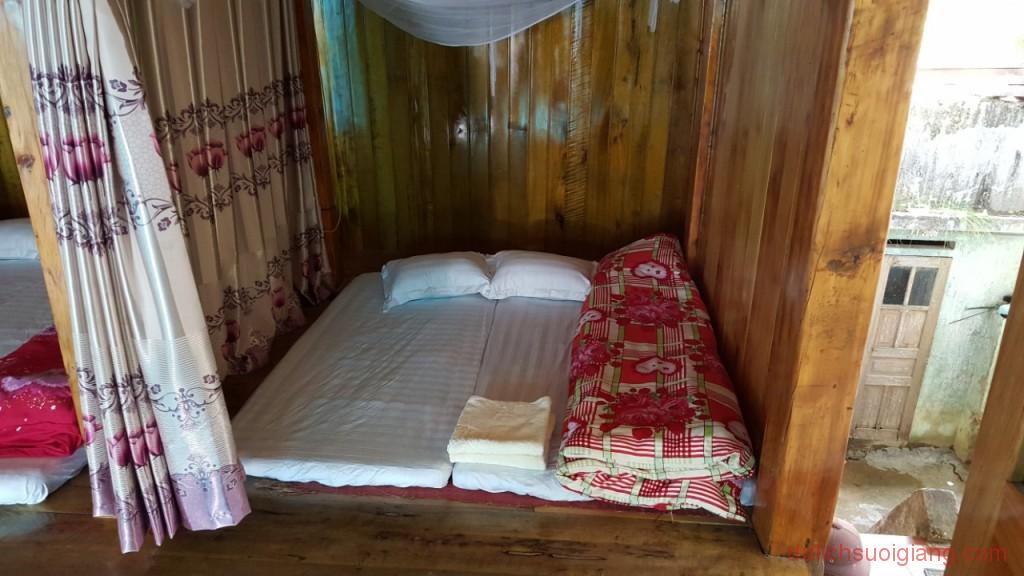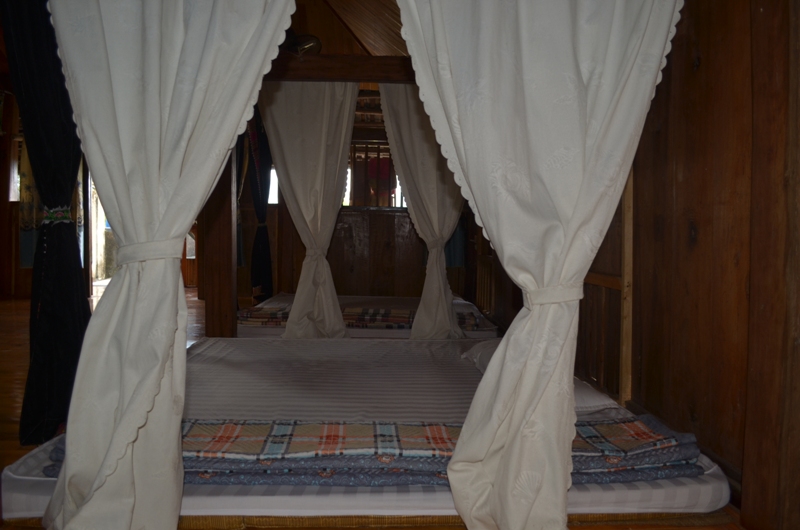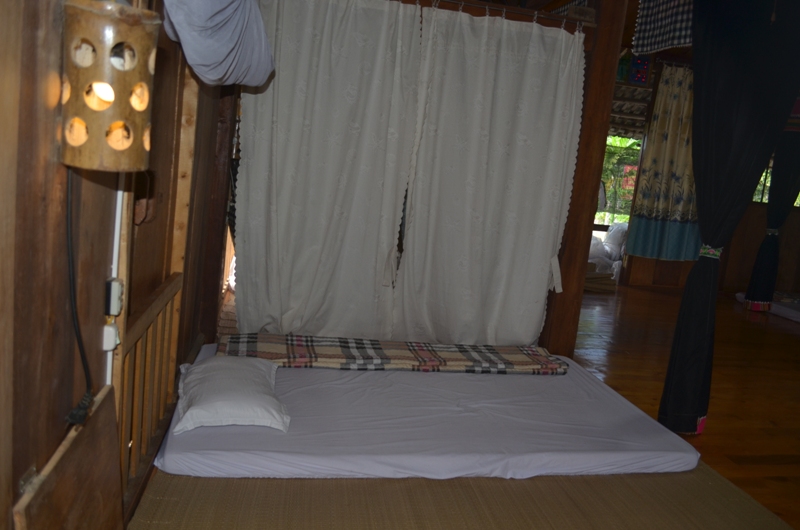 Staying at local home, you will share the house with family. Sleep on wooden floor with private bedding setup. Breakfast and dinner are also included in the cost. Reservations need to be made in advance.Our host at the stilt house where our group stayed for one night was Xanh, the slender middle-aged Mong man, deputy chairman of Mu Cang Chai Township People's Committee.The stilt house is located at the head of the village and was built in 2009, Xanh said, and added that the family decided to go into the business of home-stay tourism.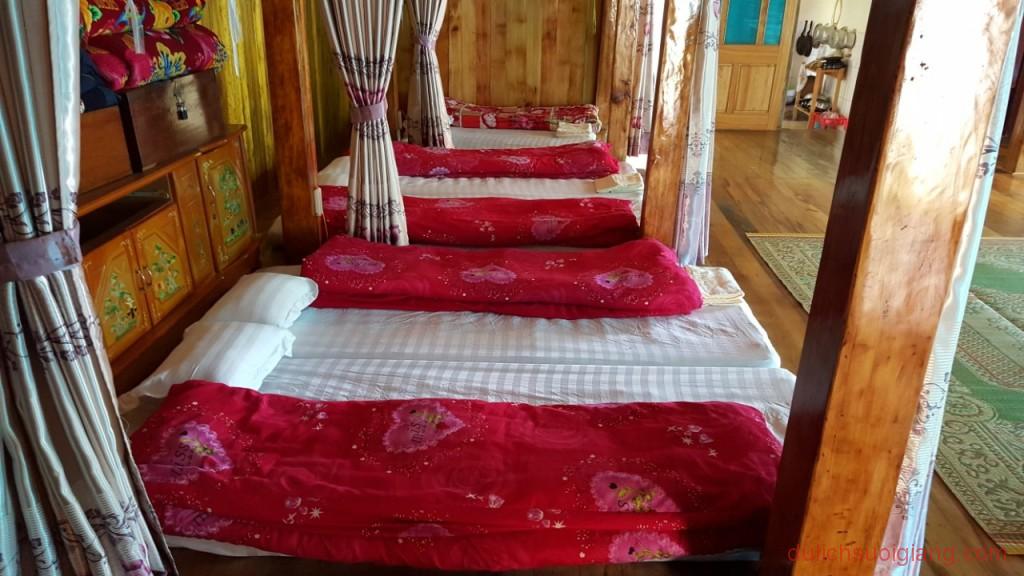 The hospitable host invited us for some bottles of cider and we had a heart-to-heart talk. The life of the ethnic minorities in Mu Cang Chai has improved with asphalt roads, and double-storeyed houses equipped with comfortable household facilities. Xanh has bought an Innova car to make travel easier for his family of six adults and three children.
We went around the village, and met people from the ethnic minorities we were very interested in, especially a middle-aged woman who was fluent in the popular Kinh language who invited us to see her house.Two visiting children, aged 7 and 10, said they had a nice experience sleeping in a timber house, wading across a stream, picking up forest flowers and playing with the ethnic minority children.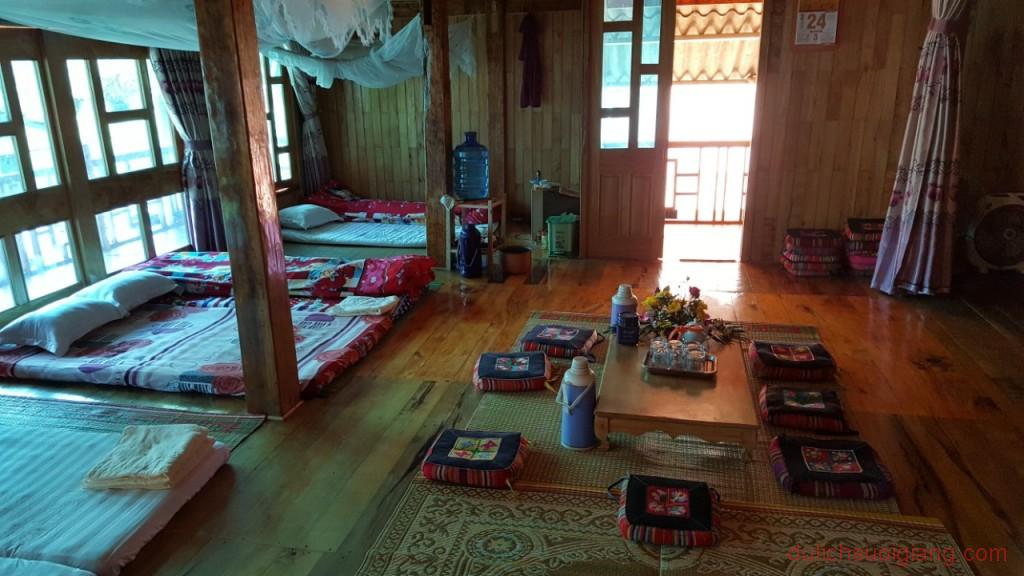 "My children were very excited," their mother said."They exclaimed excitedly when they saw the sunset behind the mountain. They learnt so much about real life in the countryside," she said.
Traditional cultural performances had not been organised regularly in the village, due to the lack of funds and organisers, Huy said. Performances are primarily held during a festival or a traditional holiday.In the near future, the Mu Cang Chai Township People's Committee plans to organise a cultural performance during the weekend to attract visitors.Huy said the district was implementing a project to train the local ethnic minorities in the village on professional tourism that includes behaviour, gastronomy, and interacting with visitors.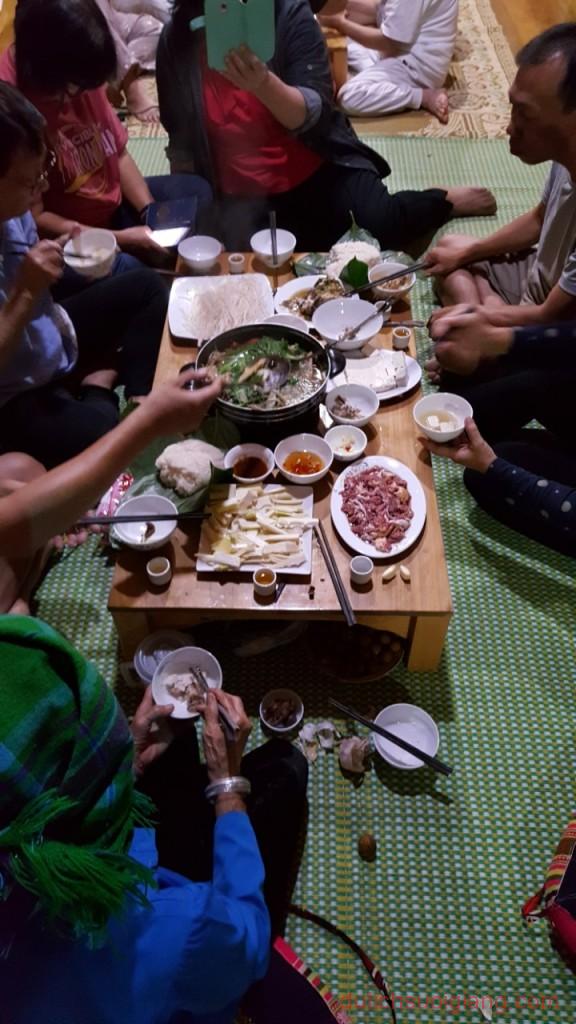 Travellers flock to the beautiful township during the two main seasons, in May, and between late September and early October.During each period, the township looks especially beautiful. In May, water from the falls and the mountaintop pours into the terraced rice fields and helps the people prepare for a new crop.However, young people, among whom amateurs and professional photographers, prefer to reach the township between late September and early October. During the ripened rice harvest the terraced rice fields in Mu Cang Chai resemble a yellow carpet in a water-colour painting.
Back in Ha Noi, every member of our travelling group gifted a bottle of the forest bee's honey to friends and family. Tips for tourists The price for a set meal for four people: VND 150,000 per head.
For overnight stay: VND 150,000 per head; Breakfast VND50,000 per head. However, for a group of 10 persons or more, there will be a discount of VND130,000 per head for a meal.Ethnic minorities in Yen Bai farm in terraced fields on the mountainsides. When spring arrives, rainwater and water pour into the terraced fields. People call this period the watering season.
Mu Cang Chai District is located in the west of Yen Bai Province, 180km from Yen Bai City. From Yen Bai City, travellers can reach the district by bus or motorcycle. A bus plies on the Ha Noi – Mu Cang Chai route from the My Dinh bus stations. It departs at 7.30pm and arrives at 3am. The one-way fare is VND 200,000.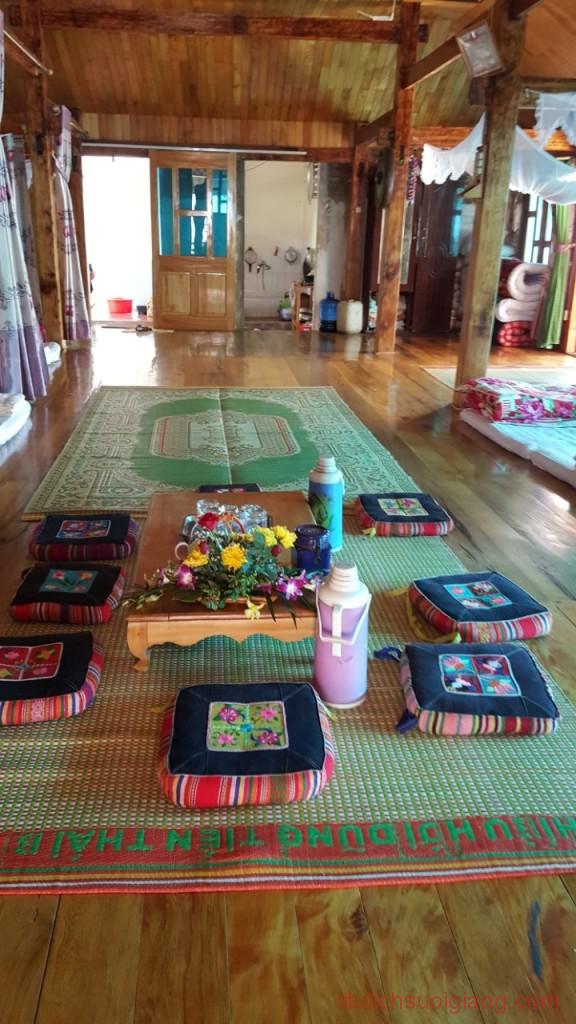 Different ways: Go to Highway 32 Ha Noi – Son tay dist – Thanh Son town(Phu Tho) – Thu Cuc town (Phu Tho)- Bus stop Nghia Lo Town (transit):190km, overnight.Ha Noi to Nghia Lo town , many bus start early 7h30 am, later 18h30 at My Dinh Stations.
Morning go to Mu cang chai(100km).Bus Nghia Lo – Mu Cang Chai by Moto and bus.To stops at Mu Cang Chai Township. Motorcycles are available for rent at hotels or guest houses.
You can contact us now by mail:nguyenvanhuy.bk@gmail.com , Send to Zalo, Viber, Whatapps , Line +84-984.904.686.
Liên hệ đặt phòng: 0984.904.686 – 0914.904.686
Some Pic Homestay Mu Cang Chai
Ý kiến tham luận
Welcome